Qualcomm Mirasol display for color e-readers inspired by butterflies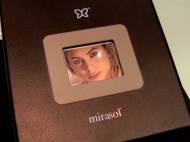 Qualcomm MEMS Technologies new Mirasol display is the first full color, video-capable display on a prototype e-reader, built on the concept of the iridescence of butterfly's wings. The inspiration for Mirasol's engineering came from nature's most vividly colored creatures: the cerulean wing of a butterfly, the ruby throat of a hummingbird, and the rainbow flash of a tropical fish. The crystals reflect light at different angles, causing light waves to interfere with one another, which we see as changing or iridescent colors. Scientists call it structural color, as opposed to color by pigmentation.
Mirasol technology, formally known as interferometric modulation (IMOD), uses electrically charged, tiny flexible membranes overlaid onto a mirrored surface to mimic the reflective properties of biological crystals. Mirasol displays require virtually no illumination or backlighting, a power sucking requirement of LCD screens, resulting in significant energy savings. Pike Research estimates that IMOD displays consume 33.7 percent less energy and emit 94 percent less carbon dioxide while active than an LCD display of the same dimensions.

Additionally, Mirasol displays fabricated to use IMOD technology have shown reflectivity greater than 60 percent, contrast ratio greater than 15:1 and drive voltage as low as 5 volts. Qualcomm claims Mirasol displays have approximately the same contrast ratio and reflectivity as a newspaper, making it easy and natural to read in almost any lighting situation.
Though simple in structure, IMOD elements provide the functions of modulation, color selection and memory while eliminating active matrices, color filters and polarizers. The result is a high-performance display capable of active-matrix type functionality at passive-matrix cost. Qualcomm's Mirasol displays are a strong contender in the display industry, with the potential to offer many of the benefits of ink and paper.
Traditional STN- or cholesteric-based passive matrix displays have switching speeds as slow as tens or hundreds of milliseconds. An IMOD element's switching time is 1000 times faster than traditional displays. In addition, switching speed of Mirasol displays is maintained across a wide temperature range, unlike organic liquid-crystal-based displays, whose switching speeds decrease as temperatures go into low environmental ranges.
The speed and image quality would allow a Mirasol-equipped e-reader to double as a media player for video and games. Viewing video on an ordinary device can quickly drain the battery, but Mirasol display video capabilities require no significant sacrifice in battery life.
The Qualcomm e-reader prototype made by Foxlink caught media attention for its obvious advantages over available e-readers like Amazon's Kindle and the Barnes & Noble Nook. "The displays use ambient light in order to create color," said marketing director Cheryl Goodman at Qualcomm MEMS Technologies. "It is a nature-based design and it is a significant innovation that no one has done before."
Qualcomm estimates battery life prolonged to last for days or even weeks. Its characteristics make it ideal for next generation of e-readers, but Qualcomm envisions a much wider application of its technology. Without the need for backlighting, Mirasol displays can be even thinner and lighter than their LCD counterparts. According to Qualcomm, the technology is scalable and can be adapted to larger applications such as TVs and outdoor digital signs, thinner versions of digital cameras, cell phones, gaming devices, and GPS units.
Qualcomm claims Mirasol Color Video e-book readers will ship in late 2010. Until then, they can hope their competition won't beat their product with significantly affordable or advanced technology.