Carmanah EverGEN 1710 off-grid solar LED streetlamps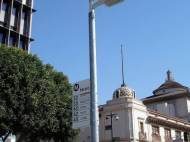 Many cities use LED streetlamps instead their predecessors in order to save energy and money. The next logical step, when you disregard the fact some parts of the world aren't as sunny as others, is to make take the streetlamps completely off the grid. A bit more than a year ago, lighting manufacturer Carmanah partnered with a team at frog design to create a series of solar LED streetlamps. The lights have just begun to pop up on the streets of sunny downtown Los Angeles.
"Exploring the possibilities for the next generation of solar powered lighting is an exciting design challenge," said Doreen Lorenzo, president of frog design. "Alternative energy solutions are a big part of the future of the field of innovation. We're excited to be partnering with industry leaders like Carmanah."
The lamps are cost-efficient, environmentally savvy, and smart enough to power down when no one's around. They do have a nice design, although we believe the streetlights in future could look much better considering the expected miniaturization and improvements of applied technologies.
The Carmanah EverGEN 1710 light series combine advanced motion-sensing capabilities with a range of energy saving operating profiles to ensure bright, reliable illumination whenever and wherever it's needed. The Carmanah 1710 series uses ultra-thin monocrystalline solar panels (currently most efficient on the market) which can be manually tilted when installed to take the best advantage of the sun's angle.
Featuring a dark-sky friendly LED fixture designed by industry-leading lighting manufacturer BetaLED, the EverGEN 1710 solar light incorporates all of the elements of a complete solar power system in a compact, pole-mounted design developed by frog design, a global innovation firm that has pioneered some of the world's most groundbreaking designs for trendsetting companies such as Apple, Disney, HP, Louis Vuitton, Logitech, Microsoft, and Sony. The LED bulbs last much longer than traditional streetlamp bulbs, and the battery and components can be recycled.
Cost savings for cities using the LEDs are significant, since crews won't have to spend the money trenching, cabling, and accessing the power grid, and then of course there won't be any addition to the monthly energy bill. The lights can be placed atop existing poles or mounted on super-lightweight stands, as they don't need to be weighted down with wires or hardware.
Most importantly, the lights are also equipped with motion sensors that can communicate wirelessly, meaning that the lights can work together as a network to switch off when the area is empty, or provide a safe, well-lit pathway when someone enters their zone. The off-grid streetlights could also be supplemented with other locally available power sources (mini hydro-plants, wind power or floors that generate power due to pressure), thus ensuring longer working hours where continuous illumination is needed.