Using carbon nanofibers to improve synthetic gasoline production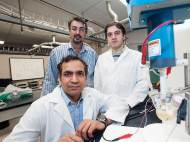 While there are many efforts to shift from gasoline onto other fuels or electricity, a group of researchers at the University of Illinois at Chicago (UIC) took a different approach and found a more viable way to create synthetic version of petrol. They managed to improve the first step in the process of creating syngas, gasoline and other energy-rich products out of carbon dioxide.
"I believe this can open a new field for the design of inexpensive and efficient catalytic systems for the many researchers already working with these easily manipulated advanced carbon materials", said Amin Salehi-Khojin, UIC professor of mechanical and industrial engineering and principal investigator on the study.
Researchers have spent decades trying to find a more efficient way to chemically "reduce" the oxidation state of carbon dioxide. While reducing carbon dioxide (CO2) is a two-step process, chemists had commonly used a single catalyst. However, those catalysts never made the process commercially viable.
Salehi-Khojin and his colleagues experimented with using different catalysts for each step. Previously, they tried to use an ionic liquid to catalyze the first step of the reaction, and silver for the final reduction where CO2 is reduced to carbon monoxide (CO). Although co-catalyst system was more efficient than single-catalyst carbon dioxide reduction systems, using silver made the process expensive.
In order to find a better solution, the researchers experimented with a relatively new class of metal-free catalysts – graphitic carbon structures doped with other reactive atoms. They tried with carbon nanofibers doped with nitrogen, as a substitute for silver to catalyze the second step. Careful study of the process led to a surprise – the researchers found that it was not the nitrogen that was the catalyst.
The researchers found it was the carbon atom sitting next to the dopant that was responsible, and that the co-catalyst system was more efficient than silver. Another advantage of this discovery is the freedom in terms of structure of the catalyst, because researchers can alter it in ways that increase the efficiency or stability of the reaction.
"Further, one can imagine that using atomically-thin, two-dimensional graphene nano-sheets, which have extremely high surface area and can easily be designed with dopant atoms like nitrogen, we can develop even far more efficient catalyst systems", said Bijandra Kumar, UIC research scholar and the other first-author of the paper.
Finding better ways to convert CO2 into CO is important because CO is a useful starting-material for synthesizing fuels. UIC researchers hope that their research leads to commercially viable way to use CO2 to produce of syngas or even gasoline.
For more information, read the paper published in Nature Communications: "Renewable and metal-free carbon nanofibre catalysts for carbon dioxide reduction".